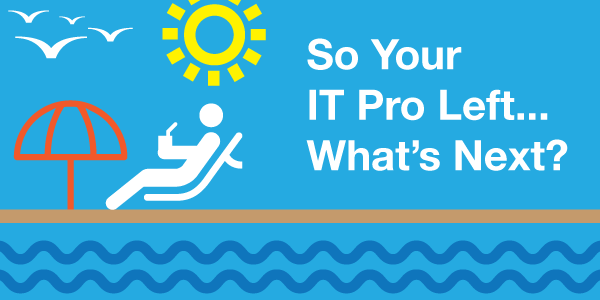 Picture this: Your long-standing IT pro decides it's finally time to move on and live his dream life as a surfer somewhere off the grid. His dream has become your nightmare because he handled EVERYTHING. What do you do when you're faced with this dilemma? Do you replace the person, find an IT management partner, or something in between?
Fear not. We're here to help make this decision an easy one! How so? Read on…
Keeping your technology up-to-date, maintaining your data regularly and securely while providing your tech team with professional development opportunities and benefits is expensive. Relying on a few people to manage your complex business technology is a potential disaster waiting to happen. One data breach or server failure can significantly impact your business operation and cripple you for good.
Do you realize that there's greater value in hiring an outsourced IT department than hiring just one in-house IT staff? Outsourcing an IT department is a reliable, cost-effective way to provide 24/7/365 service to monitor and maintain your IT infrastructure morning, noon, and night with a skilled team of professionals that offer certifications and disciplines no small, internal group could offer.
Below are some of the key things to consider when making a move from an in-house IT solution to outsourced IT: