Mobile Device Management: Vital to Securing your Data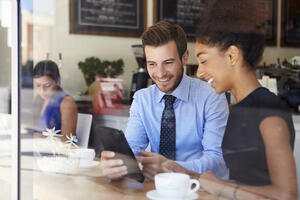 Due to the popularity of the Bring Your Own Device (BYOD) trend and increase in remote workers, Gartner estimates that 70% of mobile professionals will conduct business on personal smart devices by 2018. While these trends offer a lot of benefits, including cost savings, they can open the door to security risks and breaches. To combat these challenges and protect mobile data, Microsoft introduced Intune, a mobile device management tool for Office 365 in late October. Here are the top 3 ways mobile device management (MDM) can benefit you:
Increased Security Protection
It's almost impossible to not check your email and make updates while you're on the road. But those habits could be putting your company's data at risk. With MDM, you can apply security polices on devices that are connected to Office 365 to ensure all of your emails and documents are synchronized only on phones and tablets authorized by your IT team. Additionally, you can help prevent unwanted users from accessing email and data when a device is lost or stolen by setting up security policies such as device level pin lock and jailbreak detection. As an added feature, Office 365 MDM will allow you to perform a "selective swipe" and remove data from a device when an employee leaves your company but still keep their personal information and application intact.
Continued Productivity
To keep productivity at an all time high, Office 365 MDM is built directly into apps your employees are already utilizing. This eliminates the need to stall your workflow and replace these apps with restrictive all-in-one apps for corporate email, calendars and documents. Therefore, you can easily set access policies to help secure company data while keeping your employees happy and humming along.
Devices Easily Managed
Keeping track of your all of businesses' devices can be tricky, especially those outside of the office. But with Office 365 MDM, you can secure these devices and easily access and maintain policies for them within a simplified administration portal. The interface allows you to access reports on connected devices and identify ones that have been blocked due to non-compliance. Everything you need to maintain your devices in one convenient place.
With mobile workers on the rise, it's wise to take steps towards securing your company's data outside of the office. Office 365 mobile device management is a great tool to take advantage of the growing BYOD trend while keeping your data secure. For more information on how Office 365 and mobile device management can help your business, contact the experts Dataprise.