The Clock has Struck Zero: Microsoft Ends Support for Windows Server 2003
We don't want to scare you, but if you're still running Windows Server 2003 your business may be at serious risk.
As of today, July 14, Microsoft will no longer provide updates to Windows Server 2003. This does not mean, however, that the software will cease to exist. You will still be able to use it, but it's important to understand the risks and possible migration solutions.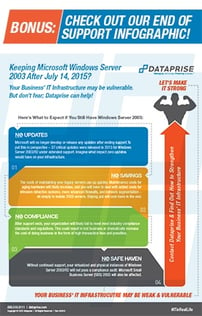 The Risks
Without security updates and paid support, businesses continuing to use Windows Server 2003 will have an unprotected infrastructure and be extremely vulnerable to hackers and viruses. If your business protects confidential information, such as medical or financial records, without the updates you could fail to meet many industry-wide compliance standards and regulations.
While you may think you're saving money by not upgrading, you're actually taking the more expensive route. Costs of maintaining legacy servers can add up quickly, as maintenance costs for aging hardware will likely increase. Furthermore, because you're no longer receiving security updates, you'll need to invest in intrusion detection systems and more advanced firewalls to ensure your servers are secure.
Identifying the Right Solution & Making the Migration Happen

If you're still running Windows Server 2003, you should look into migrating to a supported platform such as Windows Server 2012 R2, Microsoft Azure, or Office 365. The average server migration takes 200 days, so the sooner you start your migration process, the less time your infrastructure will be unprotected. Microsoft recommends organizing the migration process into four steps:
Discover which workloads are running on Windows Server 2003
Assess and categorize workloads by importance and complexity
Target a migration destination for your workload
Build and execute your migration plan
Planning for the Future
Determining the migration solution best suited for your business requires an in-depth inventory of your current infrastructure and an exploration of your future IT plans. This is a golden opportunity to take the pulse of your current and future IT needs, and plan accordingly.
Don't know where best to begin? The experts at Dataprise can help you migrate quickly and efficiently, with your business needs in mind. Contact us today for more information.