4 Benefits of Switching to a Virtual Server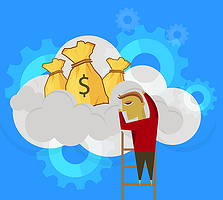 Running a business server can get expensive. Between maintenance, equipment, housing, and security, the costs add up very quickly. In fact, for most businesses that don't have very specific and specialized server needs, running a server in-house is a gross inefficiency. Even co-location, the practice of housing a server at a communal space while paying for the equipment and maintenance yourself, is usually unnecessary for most small and mid-size companies. An alternative that makes much more sense, both financially and practically, is a virtual server.
In a virtual server environment, your company's server exists as a virtual machine running on a shared server operated by a hosting company or managed service provider. Because your server shares physical space and computing resources with others, costs to individual servers remain low, and maintenance is split between everyone on the server and figured into the monthly costs up front. So, what are the benefits of switching? Here are the top four.